Aproveite ao máximo a ferramenta de Tarefas do Canvas

gsimoni
Instructure
Mark as New

Mark as Read

Bookmark

Subscribe
Você tem explorado as diferentes maneiras de usar a ferramenta de Tarefas do Canvas pra melhorar o ensino e o aprendizado em seu curso?
Para ajudar você a aproveitar o máximo dessa ferramenta, criamos este infográfico com dicas úteis e links de referência para os Guias de Ajuda do Canvas.

Baixe o infográfico em alta definição que foi anexado nesta publicação, compartilhe com seus amigos professores e comece a testar as funcionalidades das Tarefas do Canvas!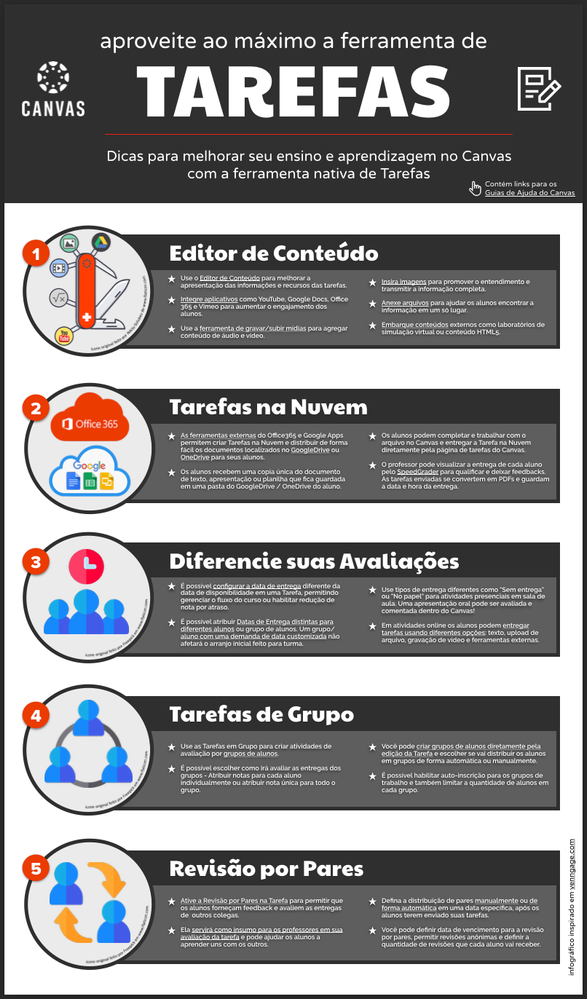 Esta postagem foi inspirada na sensacional série de postagens e infográficos Powering Up Your Canvas Course: Cool Things Series produzida por Stephanie Jordan! Super vale a pena uma visita!
O Departamento de Treinamentos da Instructure está comprometido em apoiar quaisquer necessidades de treinamento em sua Instituição. Entre em contato com seu CSM para saber mais sobre esse recurso, recursos adicionais ou qualquer uma de nossas ofertas de treinamento.
:smileycheck: Adoraríamos saber como este recurso está ajudando você. Por favor, deixe seus comentários nesta página!
You must be a registered user to add a comment. If you've already registered, sign in. Otherwise, register and sign in.