Héroe de Canvas- Guía de Inicio Rápido para el Administrador de Canvas
Mark as New

Mark as Read

Bookmark

Subscribe

Email to a Friend
¿Es usted un administrador de la plataforma de Canvas? ¿Le gustaría aprender más acerca de las funciones y herramientas administrativas dentro de la plataforma? ¡Bienvenido al curso Héroe de Canvas - Guía de inicio rápido para el administrador!
Este curso es un excelente recurso de formación para que los administradores de la plataforma, tanto de cuentas como de subcuentas, aprendan cómo administrar su entorno Canvas.
---
Sobre el Curso
Este curso está dirigido a los administradores de la plataforma de Canvas y la información incluida aplica a todas las instituciones. Las técnicas y herramientas presentadas en este curso pueden ser utilizadas a cualquier nivel académico, desde una institución de educación básica hasta una institución de educación superior.
Objetivos
Este curso está diseñado para guiar a los administradores de Canvas a usar las herramientas y configuraciones disponibles en el menú de Navegación Global de Administración (Admin).
Método
Los participantes de este curso en linea tendrán acceso a información, videos y documentación de Canvas para aprender y aplicar el contenido del curso en sus propios entornos de Canvas. Este curso ofrece flexibilidad para que los participantes puedan completar el contenido de este curso a su propio ritmo.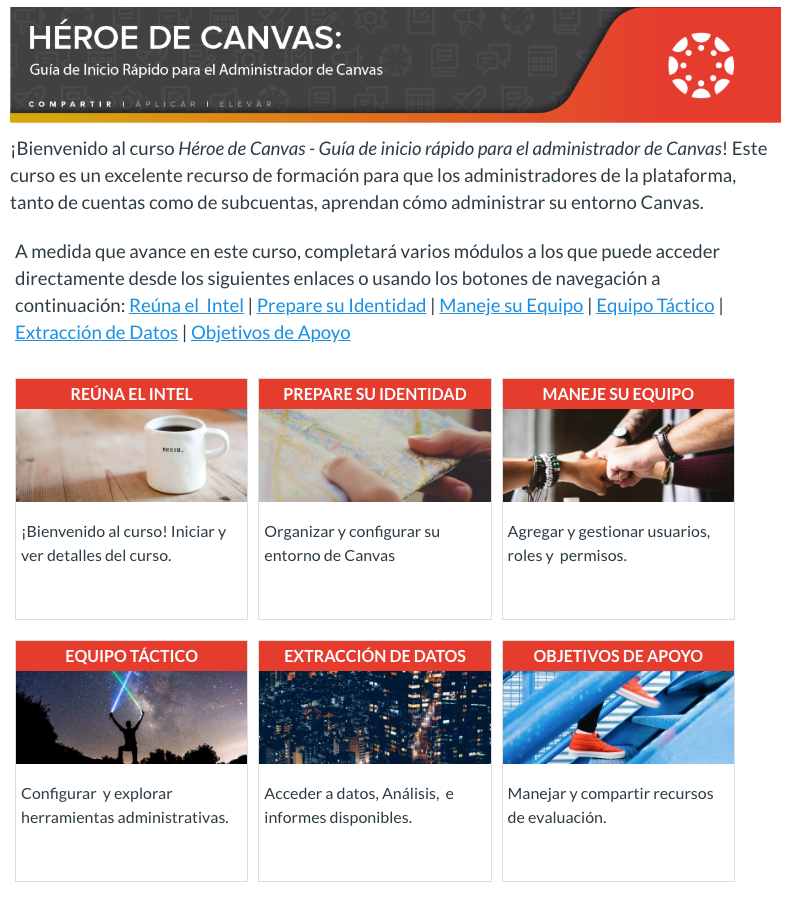 ---
Como acceder al Curso
Opción 1:
Matricularse al curso directamente a través de Canvas Network -
Hacer clic en este enlace para acceder a la página de inscripción del curso Héroe de Canvas
Opción 2:
Descargar una copia del curso en su propio entorno de Canvas. El curso está disponible en Canvas Commons a través de este enlace: Héroe de Canvas, (Nota: asegúrese que esté conectado a Canvas) y se ofrece conforme a una licencia de Atribución-NoComercial-Compartir-Igual CC BY-NC-SA.
Si usted nunca ha usado un recurso en Canvas Commons, todo lo que usted necesita es un curso sin contenido en su cuenta de Canvas para copiar el contenido del curso Héroe de Canvas. Una vez que el curso esté en su entorno, usted es libre de editar y usar el curso como lo desee. Explore esta guía -¿Cómo usar Commons? - en caso de que usted necesite más información.
Creditos:

Un agradecimiento grande a nuestros colegas del equipo de Servicios de Educación quienes colaboraron con este proyecto - Erin Keefe, Deactivated user‌,Aurelien Mansier, Mark Sluzky y todo el Departamento de Capacitación de CanvasCanvas Training‌ quienes mantienen actualizado este contenido.
Actualizaciones
Estaremos agregando todas las futuras actualizaciones al curso aquí debajo. ¡Suscríbase a esta publicación para mantenerse informado!
:smileycheck:Nos encantaría saber cómo les está ayudando este curso. Por favor deje sus comentarios en esta página.
You must be a registered user to add a comment. If you've already registered, sign in. Otherwise, register and sign in.