Mark as New

Bookmark

Subscribe

Mute
I have always been able to embed images in my discussion posts and it just stopped working like a month ago and I don't know why. When I go to upload the file it just says "file upload fail" and it never gives me a reason. I have tried with different browsers and different types of files, .pdf .jpg .png, and they all used to work and now they just don't anymore. This allowed me to "insert image" but that is not an option in my discussion posts with my professors. I am in 5 classes and it happens with all of my classes.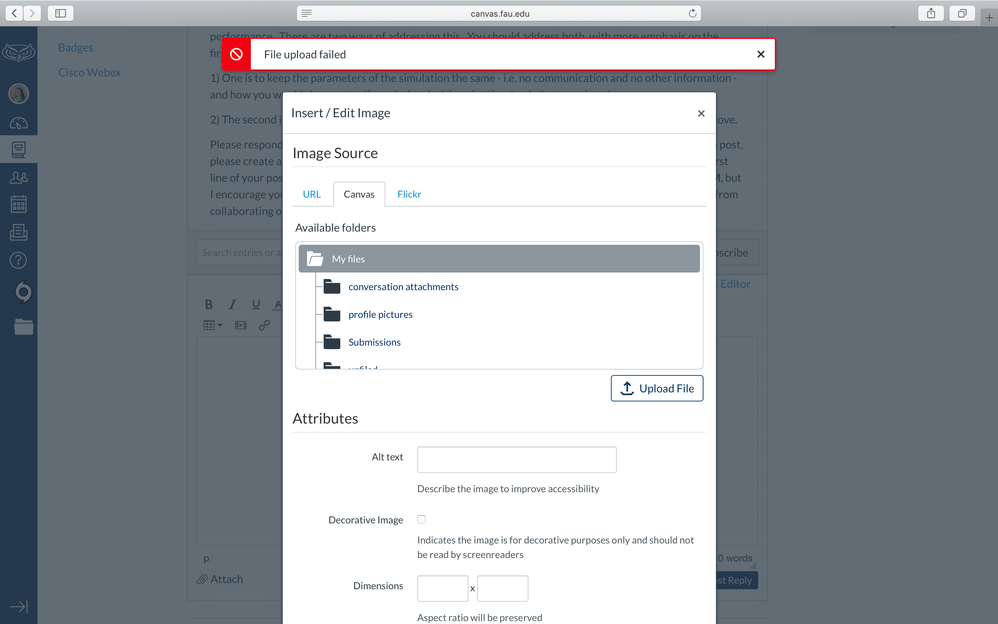 1 Solution
Mark as New

Bookmark

Subscribe

Mute
Hi @bmollnow2013 ,
That must be incredibly frustrating! Let's see if we can figure it out. The first thing that comes to mind might be that you have exceeded your user quota on your uploaded files.
If you click on your profile image in the top left, then Files, what does it show for your total quota (and is there some available)?
If it IS this, James has a fantastic response outlining the cause and remediation steps in this thread --> https://community.canvaslms.com/thread/34858-user-storage-quota-exceeded-error#comment-146587
If (however) you do have quota available for your file uploads, this is something that would need to be looked at in more depth by Canvas Support. They will have access to your School's Canvas instance and can look in the back-end as to what error you are receiving the error after going through it with you step-by-step.
You can reach out to Canvas Support via the Help menu in Canvas on the left-hand side when logged in.
Please let us know how you go!