Canvas Release: Canvas DocViewer (2017-06-24)
This document introduces Canvas DocViewer as introduced in Canvas Production Release Notes (2017-06-24). Additional related updates can be viewed in Canvas release notes as indicated by the Canvas Release Notes DocViewer tag.
Information regarding known behaviors will be updated as made available by our engineering team.
Canvas DocViewer automatically converts common documents types into web-viewable and interactive learning experiences. This feature replaces the current Box previewer and Crocodoc annotation tools in Canvas and provides improved performance.
Release Schedule
Canvas DocViewer will be released according to the following timeline:
Beta Environment: Friday, June 2
DocViewer will apply to all courses in all beta environments ([yourschool].beta.instructure.com).
Free-for-Teacher: Monday, June 5
DocViewer will apply to all courses in our Free-for-Teacher account (canvas.instructure.com).
Production Environment: Monday, June 19, through Friday, June 23
DocViewer will apply to all courses in all production environments for paid accounts, including all international regions. Admins will be notified about production availability from Canvas Support.
Supported File Types
DocViewer supports a variety of Microsoft, OpenDocument, and fixed layout formats as noted in What types of files can be previewed in Canvas?
In SpeedGrader, supported file types are rendered as PDFs and support annotations.
Files can also be viewed full screen.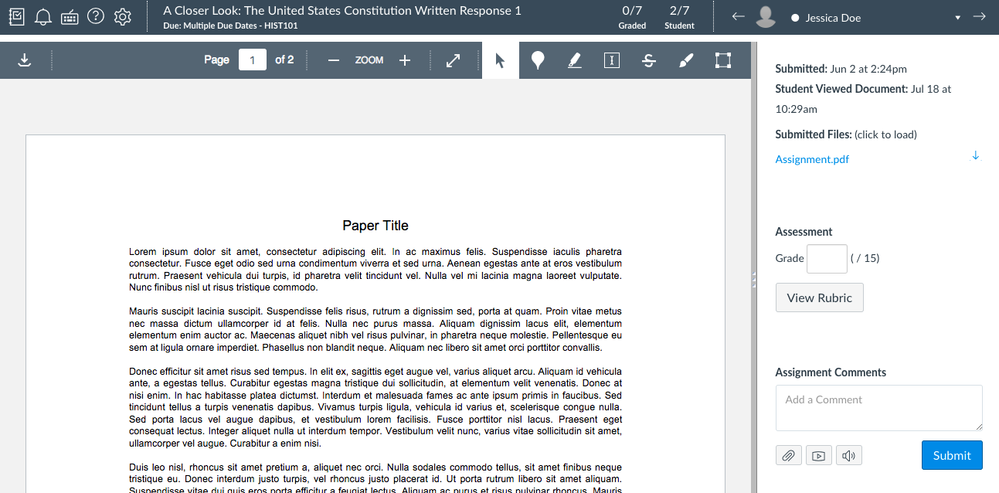 DocViewer Annotations
While the submission details page and SpeedGrader both allow users to create general comments about a submission, annotations allow users to create and highlight specific comments within a submission. Both assignment graders and students can add annotations to a supported assignment file; however, annotations are not supported in anonymous peer reviews.
A DocViewer session is active for up to 10 hours after a submission is viewed for a student. A session can be restarted at any time by refreshing the submission page.
Annotation Types
DocViewer includes a modern interface that looks and feels like Canvas and supports a variety of document and image types. The DocViewer toolbar displays the number of pages for a document, zoom in and out of the file, and use one of six annotation types for commenting: point, highlight, free text, strikeout, free draw, and area.
Users can create an annotation by clicking an annotation type. All annotation types support a variety of annotation colors.

Annotation selection is persistent, so the toolbar retains the current annotation type until another is selected.
Annotation Comments
All annotation types can be created without comments. Point and area annotation types display a comment text field immediately in the sidebar, but a comment is not required. Highlight, strikeout, and free draw annotation types display a document icon next to the annotation in the sidebar that can be clicked to create comments as necessary. All comments can be deleted by selecting the comment and clicking the comment's Delete icon.
Hovering over the annotation displays the name of the person who made the comment.

Comment Replies
All users can reply to any comments in the document by clicking the comment. However, comments and annotations can only be deleted by the user who created the comment or annotation. Annotations can be deleted by the user by selecting the annotation in the submission and clicking the Delete icon. Deleting the annotation will also remove any associated comments for the annotation.
Downloads
Documents with annotations and comments can be downloaded from the menu bar. However, currently replies to comments are not included in the download.
Community Resources
Future Enhancements
DocViewer will continue to receive additional feature enhancements over future releases as indicated by the docviewer tag in Canvas Release Notes.
Accessibility Improvements
As originally released in Free-for-Teacher (FFT) and Beta environments, DocViewer included minimal accessibility included in all other document viewing and annotation applications.
On Friday, June 16, DocViewer released improved accessibility functionality that enables students to access annotations and comments with a screen reader, including information about the annotation type, author name, comment, and any reply comments at the end of the document. This release makes Canvas the first accessible annotation and document viewing service available.
The release of this functionality is only the first step of a larger goal to create an exceptional feedback experience that is accessible for all Canvas users. DocViewer will continue to be improved with in-document annotations and accessible author-created annotations.
Customer Feedback
Community feedback for DocViewer is welcome per Canvas Community Feedback Guidelines‌, which outlines general feedback, broken functionality, and feature enhancements.
For DocViewer, feature enhancements should include the DocViewer tag. Before submitting a new idea, please review all existing DocViewer feature ideas.
Feature Documentation
All current feature functionality is noted in Canvas Guides DocViewer documentation. Comments are also welcome for functionality clarification. Lessons will also be updated with all future enhancements as indicated in release notes.
Known Behaviors
Known notable behaviors are being triaged by the Canvas engineering team—feature ideas do not need to be submitted regarding their functionality:
File Types
Advanced image and advanced document file types are currently not supported.
Excel files do not render content outside the spreadsheet print area.
Behavior Status
Other behaviors may exist in DocViewer that are not included in this document. To receive updates as available, please submit a support case as noted in our Canvas Community Feedback Guidelines.
Information in this document will be updated as behaviors are resolved by the Canvas product team. Release notes feedback is also subject to release notes comment policies.