Canvas by Instructure Release Notes (Android 4.5)
In this update, the Canvas by Instructure app supports native quizzes for students and a new bookmarks feature. Conversations has an updated design, and Dashboard colors sync between the Canvas app and browser versions.
Download the Canvas by Instructure app in the Play Store. Version 4.5 requires Android 4.0.3 or later.
User Menu
Bookmarks
Users can create bookmarks for any page within the app and save them for easy viewing. Once a bookmark is added, users can access bookmarks in their User Menu.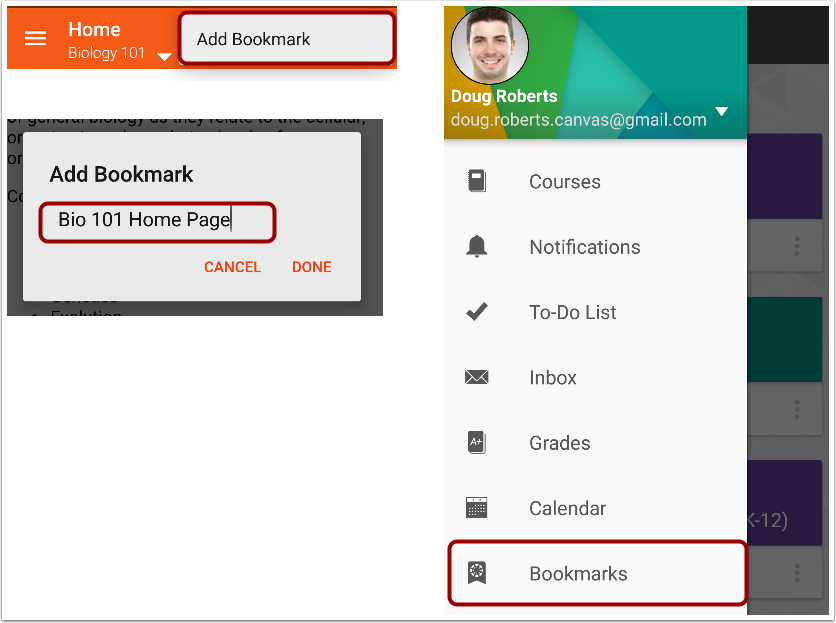 Quizzes
Native Quiz Support
To improve quizzes for students, the Canvas app now supports native quiz functionality. Supported question types include true/false, multiple choice, multiple answer, essay, short answer, and text. Students can easily skip to another question or flag a question in the app. For timed quizzes, the app allows students to turn the timer on and off.
Any quizzes that do not contain supported question types will continue to redirect to the web version. Additionally, currently the app does not support one-question-at-a-time quizzes, quizzes with passcode restrictions, or quizzes with IP address restrictions. Quiz results are also not currently supported natively on the app and must be viewed in the web version.
Conversations
Messages Interface
Conversations has a new app design for easier viewing. Messages include the subject line and the first line of the conversation. Folder filters are displayed across the top of the app. In the message display, messages are shown in colored boxes like viewing a text message. You can also view the people in the message, star the message, and archive or delete the message. Note that deleted messages cannot be recovered.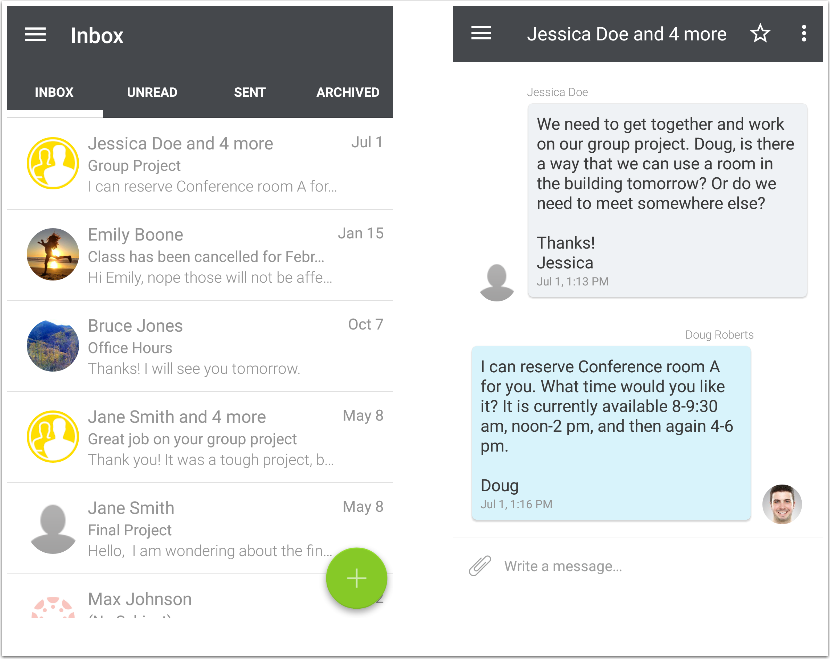 Dashboard
Color Syncing
The Canvas app syncs with the Calendar colors used in the browser version. Dashboard colors will match the calendar colors appropriately. Additionally, users can change a course color on their app dashboard, and the color will also change in the browser Calendar.
Performance
The Canvas app has been refactored to support faster loading of lists. Additionally, the app provides better routing from external email links and internal links.