Organizing your Canvas Dashboard
Mark as New

Mark as Read

Bookmark

Subscribe

Email to a Friend
Canvas Dashboard
The Dashboard is the very first screen when we come arrive into Canvas after successful authentication. At the University of Minnesota it goes to "Card View" by default, which represents your courses as "cards" but I tend to call them tiles. The cards may have images, or they may simply be a color.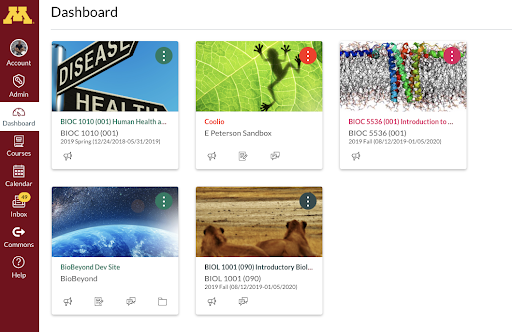 Anatomy of a course card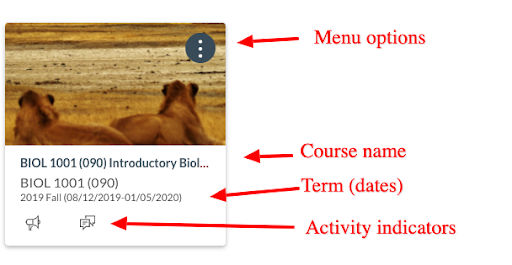 If you do nothing to your cards
If you don't customize the Dashboard at all, Canvas decides what is on there, and in what order. Usually it does not do a great job of guessing what courses you want to be in the cards, so it's best to dictate that yourself.
Customize the Dashboard "Card View"
Customizing the "Card View" is easy, but not obvious.
The first thing you should know it that if you add even 1 course manually to the Dashboard, the default automatic list will disappear. So, once you start customizing you control it all.
Adding & Removing a course from the Dashboard
Use to change the

to change the cards in the

.
First, click on "Courses", then "All Courses"

Then click on the star next to each course you want on your Dashboard.

Click a

to become a

t to add a course to the
Click a to become a

to

remove a course from the
Once you understand this is the way it works, and you are able to remember this again next semester, you are in business. You can change your Dashboard quickly to match your semester.
Remove a course from the Dashboard "using" the Dashboard
You can click on your course card menu, click "move" then select "unfavorite"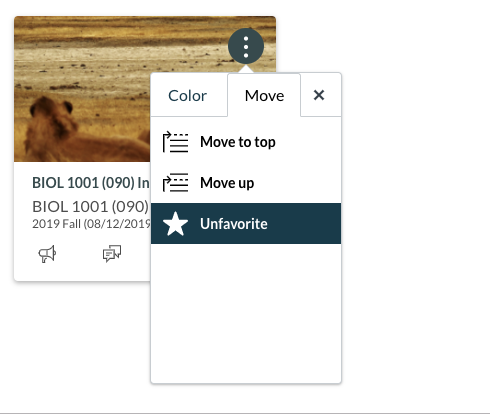 Next, Rearrange your course "cards"
Drag and Drop your cards into your order of preference.
Summary
Customizing the "Card View" is easy, but not obvious. Once you understand how it works, you'll be able to make your daily interactions with Canvas easier, more feng shui (digitally speaking).
Related to this:
You must be a registered user to add a comment. If you've already registered, sign in. Otherwise, register and sign in.