v4.3 Instructional Designer Role
In our efforts to add more flexibility of how you control access to our platform we've expanded the base roles to include a new role specializing in users who perform core tasks like setup and building of assessments for your institution.
This new role is called "Instructional Designer" and sits in between the current access of Administrators and Faculty. Instructional Designers have default access to create library content like courses, pathways, rubrics and program assessment, etc; but would not have higher level access to data like reporting. This allows Instructional Designers to get in ahead of a new semester and configure the assessments as well as to provide support for semester in progress.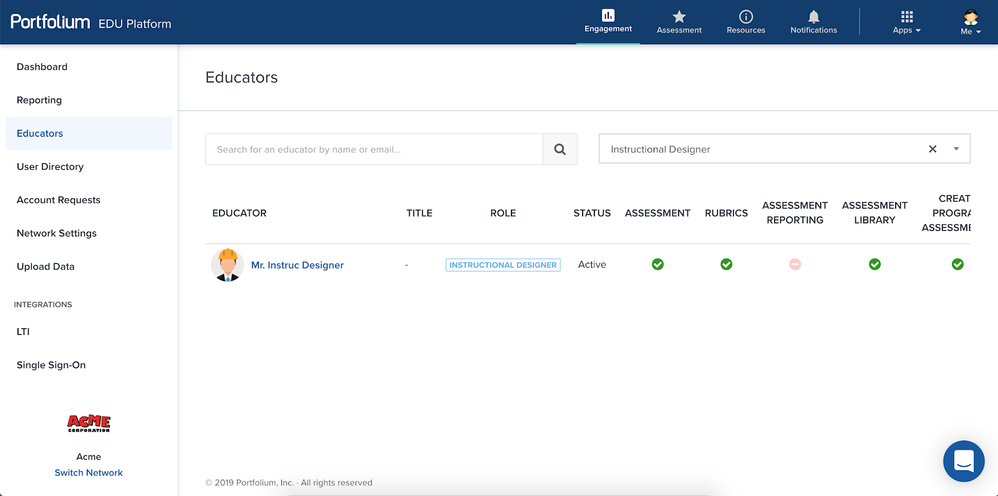 Our new role structure is as follows:
Administrator
Users with full access to the platform including but not limited to: reporting, creating and deleting library data like courses, rubrics, programs, etc.
Instructional Designer
Users with access to create, update and delete core library features like courses, rubrics, programs, pathways, etc. and do not have default access to reporting.
Faculty
Users who directly interact with courses, rubrics, pathways, etc and cannot delete or create new library content by default.
We hope you enjoy this feature and it simplifies your ability to manage and create your assessments. Current administrators can begin inviting users to this new role immediately.