PTP Part III - How do I sync grades to PowerTeacher Pro (PTP) in PowerSchool?
This is part III and the final step for passing grades back to PowerSchool with PowerTeacher Pro (PTP). Part I outlines how to import assignment groups from PowerSchool, and Part II outlines properly setting up an assignment for grade passback (GPB).
This guide shows how to pass grades to PTP through the Canvas gradebook after completing parts I and II.
Sync Grades

If you are using the new Canvas gradebook, click the Actions menu and select the option to sync to your SIS (PowerSchool).
If you are using the legacy Canvas gradebook, click the Export menu instead.
If you want to see the status of your grade sync, you can check go to the Grade Sync link in your Course navigation.
Open Grade Sync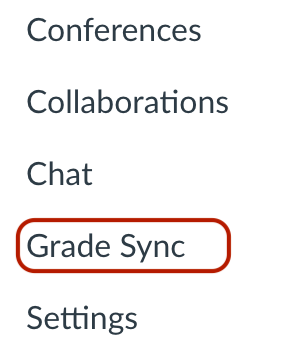 Note: Depending on when your SIS was implemented, the Grade Sync link may also be named Monitoring and Reporting.
View Reporting Tab
The Sync Status page defaults to the Reporting tab, where you can view the status of the sync request.
In the search field [1], you can search for a specific sync request by course, section, or user SIS ID.
You can also filter by status. By default, the Everything status is selected, which displays all sync results in the page [2]. You can filter syncs by Cancelled, Errors, Failed, In Progress, In Queue, and Success.
Each status type displays the number of sync requests for each status [3]. To filter by a specific status type, click the name of the status.
View Sync Tab
To manage grade passback options, click the Sync tab [1].
To run a bulk grade passback for all grades in your course, click the Submit button [2]. Running a bulk grade passback sends every grade in the gradebook to your SIS. This option can be used if you notice a discrepancy between your Canvas and PowerTeacher gradebooks.
To schedule a sync to run daily, select the Scheduled Daily Sync checkbox [3]. This option sends any new grades that were updated for assignments set to sync to SIS. To save your daily sync setting, click the Save button [4].
1 Reply
This information needs to be updated to reflect the changes that have been made. The Grade Sync page does not look like this anymore.